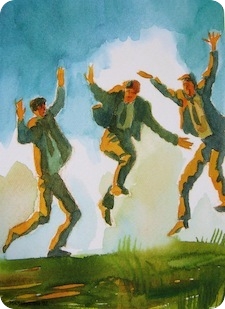 Metaphoric Cards – An Effective Tool in Therapy
Dr. Ofra Ayalon Psychologist & Author
Tel Aviv, Israel
Dr. Ofra Ayalon, one of the creators of the COPE deck and an internationally known traumatologist and author, and Bibi Siso-Ayalon wrote an article in Hebrew about the OH Cards, which was published in Journal Psychoactualia (April 2006). The English title of the article is "Metaphoric Cards – An Effective Tool in Therapy."
A translation of the entire article is available to read or dowload in PDF format (download the PDF).
Article Excerpts
Metaphoric cards open a window into a person's inner world; associative reactions to the illustrated cards make it possible to reflect upon childhood memories, to recall repressed experiences, and to release blocked feelings. Since the interpretations of metaphors featured in the cards are completely in the eyes of the beholder, the same card can trigger different reactions in different participants.
When logical understanding, will and intention do not seem to help solve conflicts, a fresh point of view can help reach a new constructive solution. The metaphor, as the right hemisphere's language, can shatter vicious circles of negative thought and behavioral and create a beneficial change. The metaphoric language created when working with cards enables people to "jump over" their defense mechanisms, which are based on routine, social conventions, etc. (Ayalon, 1992; 1993). When participants are invited to pick a card and use it to introduce themselves, they are able to "reinvent themselves" using imaging, lines, color or shape. The cards invite them to turn to latent resources of imagination to mobilize visual, sensual and intuitive modes of thinking.
OH Cards, as metaphoric projection tools, trigger our fantasy. Going back in fantasy to free childlike behavior without judgment or criticism becomes a healing experience. Imaginary worlds may be created and our creativity is enhanced. The cards help us create a space in which we allow ourselves to invent, make believe and day dream, while knowing all along that the "fantastic reality" is there to serve our coping skills and not in order to cut us off from reality (Lahad, 2003).
(See the full article for more information about the references shown above in parentheses.)